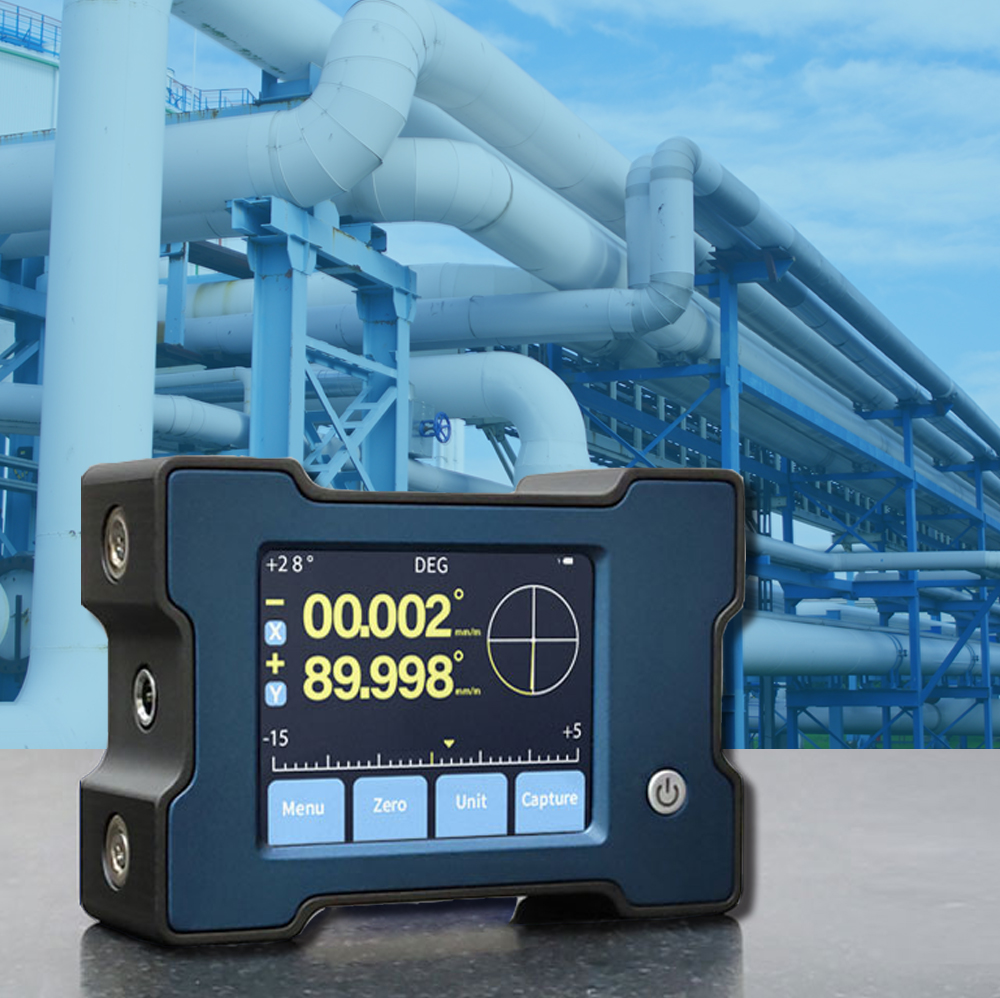 Dual Axis Digital Inclinometer HDI-PRO
The HDI-PRO digital inclinometer is a dual-axis handheld inclinometer designed to measure the slope with an accuracy of 10 seconds arc in the range of ±5° and an accuracy of 1 arcminutes in the range of ±180°. Temperature compensation, fast calibration capability and the ability to communicate with ETC and UTC series inclinometers have made HDI-PRO digital inclinometer a reliable product for operational environments. This digital inclinometer has a 2.8-inch touch screen and measures in units of degrees and seconds of arc and has the ability to be quickly calibrated by the user and communicate with a computer to transfer data.

Thanks to the low-power design, intelligent energy storage and the use of a 3600 mAh lithium-ion battery, you can use the device for more than 36 hours with each charge. Taking advantage of 2.8" touch screen, graphical user interface and measurement in degree and arcsecond units is one of the features that make measuring with HDI-PRO easier.
Using micro-electromechanical sensors (MEMS) and "3D Acceleration Data Processing", HDI-PRO inclinometers have been able to maintain their basic accuracy throughout the measurement range. Also, thanks to temperature compensation and the use of "multi-factor temperature calibration" technology, the temperature error of the device in the entire temperature range (0~50°C) is less than one arcminute.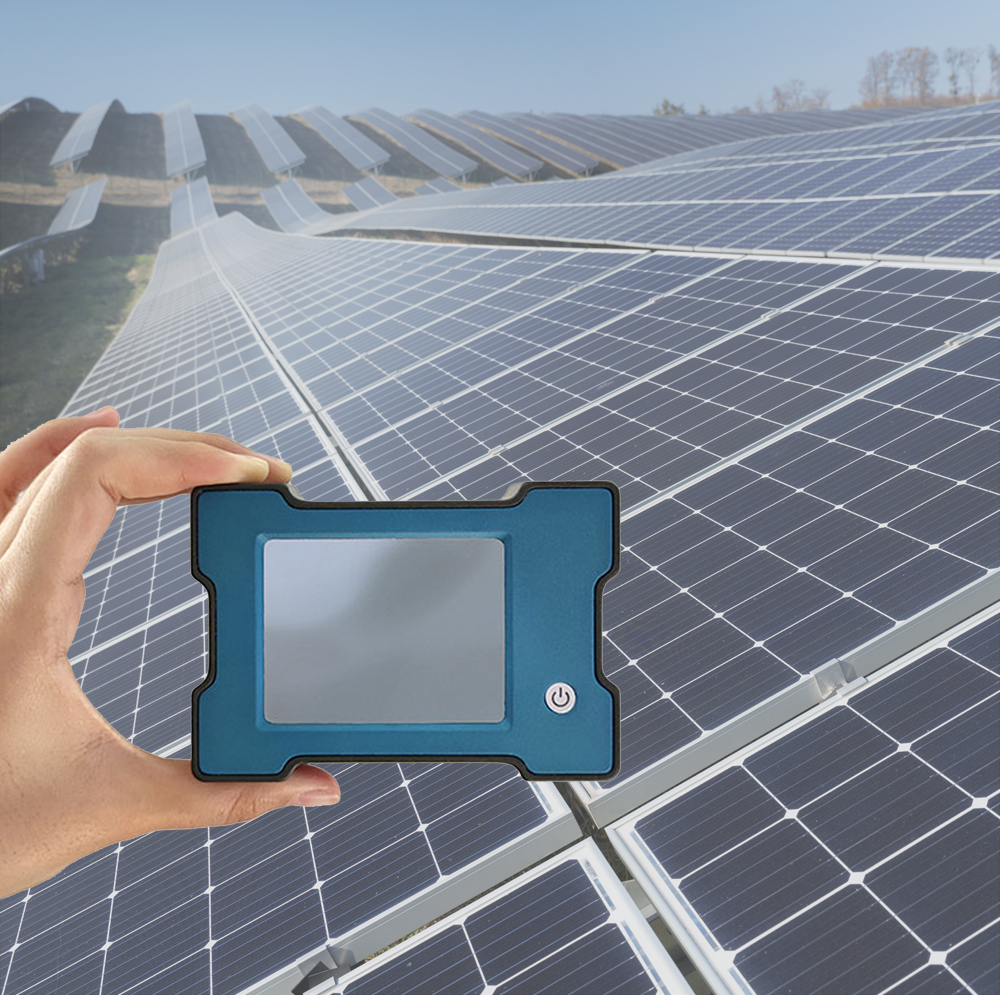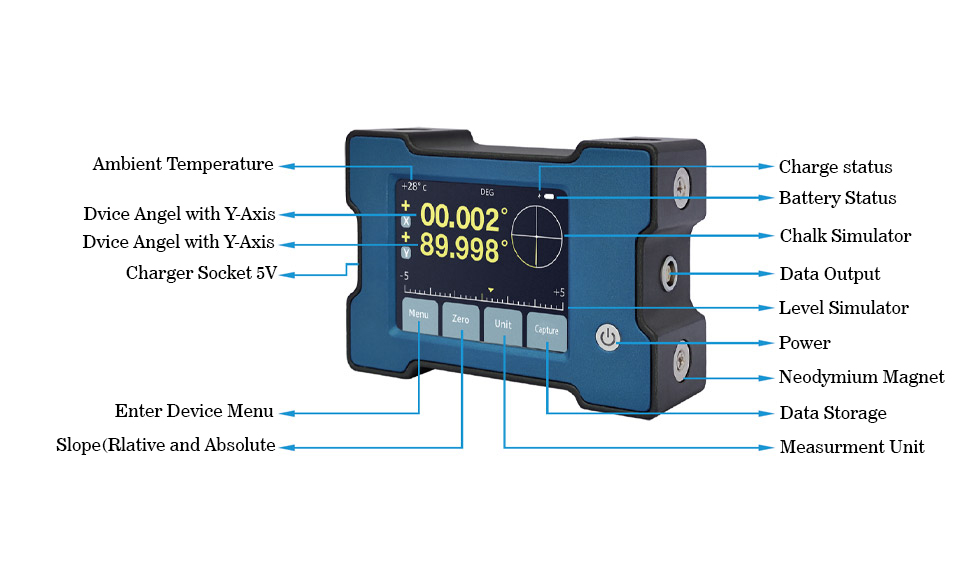 Quick calibration capability by the user (User Quick Calibration).

The measurement accuracy is 0.030° and the resolution is 0.001°

Accuracy maintaining throughout the range with "3D Acceleration Data Processing ".

Temperature compensation in the operating range (0~50°).

Ability to connect with ETC-PRO and UTC-PRO sensors.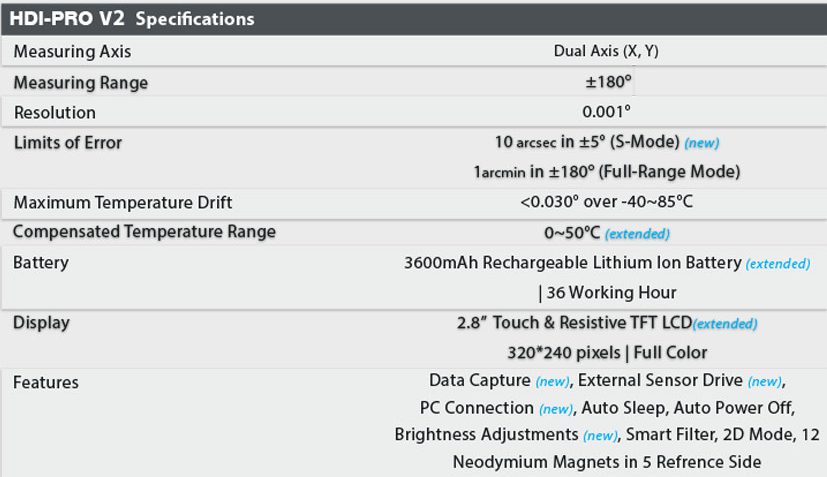 Setting axes in CNC machines and industrial robots

Measuring deflection of large pipelines

Quality control of parts in the steel industry

Precise alignment in the installation of rail structures

Calibrating linacs and other sensitive medical equipment

Adjusting local terrain for radars

Testing and controlling tables with multiple degrees of freedom