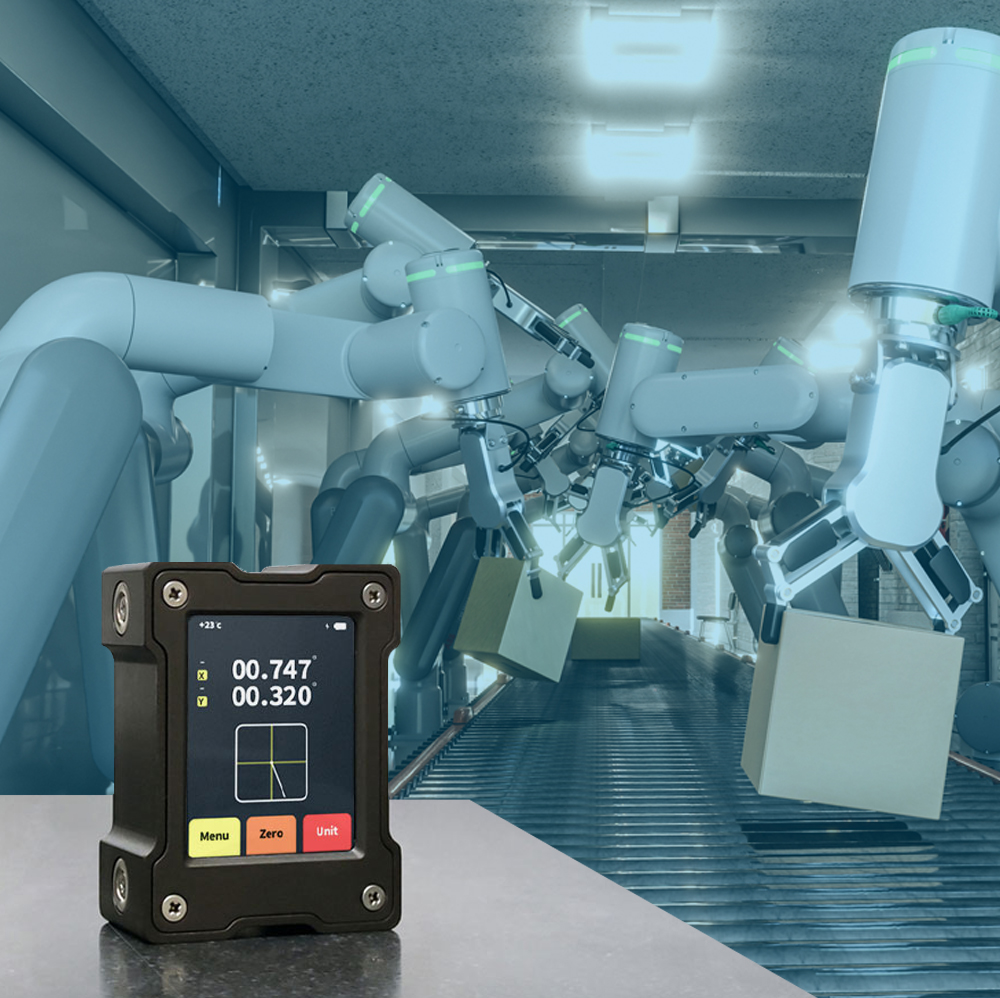 HDI-NANO Inclinometer
High-Accuracy Digital Display
The HDI-NANO inclinometer is a dual-axis handheld inclinometer designed to measure the slope of the surface in the range of ±180° with an accuracy of better than 0.030°. To use this device, the user usually connects it to the surface where he wants to measure its slope or angle, then the device shows the information related to the slope or angle through a digital screen.
Absolute and relative measurement, temperature compensation and fast calibration capability have made it a reliable product for operational environments and industrial applications.


HDI-NANO is used in various industries with its impressive technical capabilities and reasonable price compared to competitors. For example, this digital inclinometer is used in the construction industry to measure the slope of roofs or horizontal surfaces, in geological sciences to measure the slope of mountains and land surfaces, and even in mechanical engineering sciences to control the slope of various parts.
Thanks to the low consumption design, intelligent energy storage and the use of 1500 mAh lithium-ion battery, you can use HDI-NANO for more than 10 hours with each charge. The 2.4" touch screen and graphical user interface, measurement in units of degrees and seconds of arc, and the ability to change the resolution and response speed are among the features that make measurement with HDI-NANO easier.
By using microelectromechanical sensors (MEMS) and "3D processing of acceleration data", HDI-NANO inclinometers have been able to keep their accuracy constant throughout the measurement range of ±180°. Also, thanks to temperature compensation and the use of "multi-factor temperature calibration" technology, the temperature error of the device is less than 0.030 °C in the entire temperature range (0-40 °C).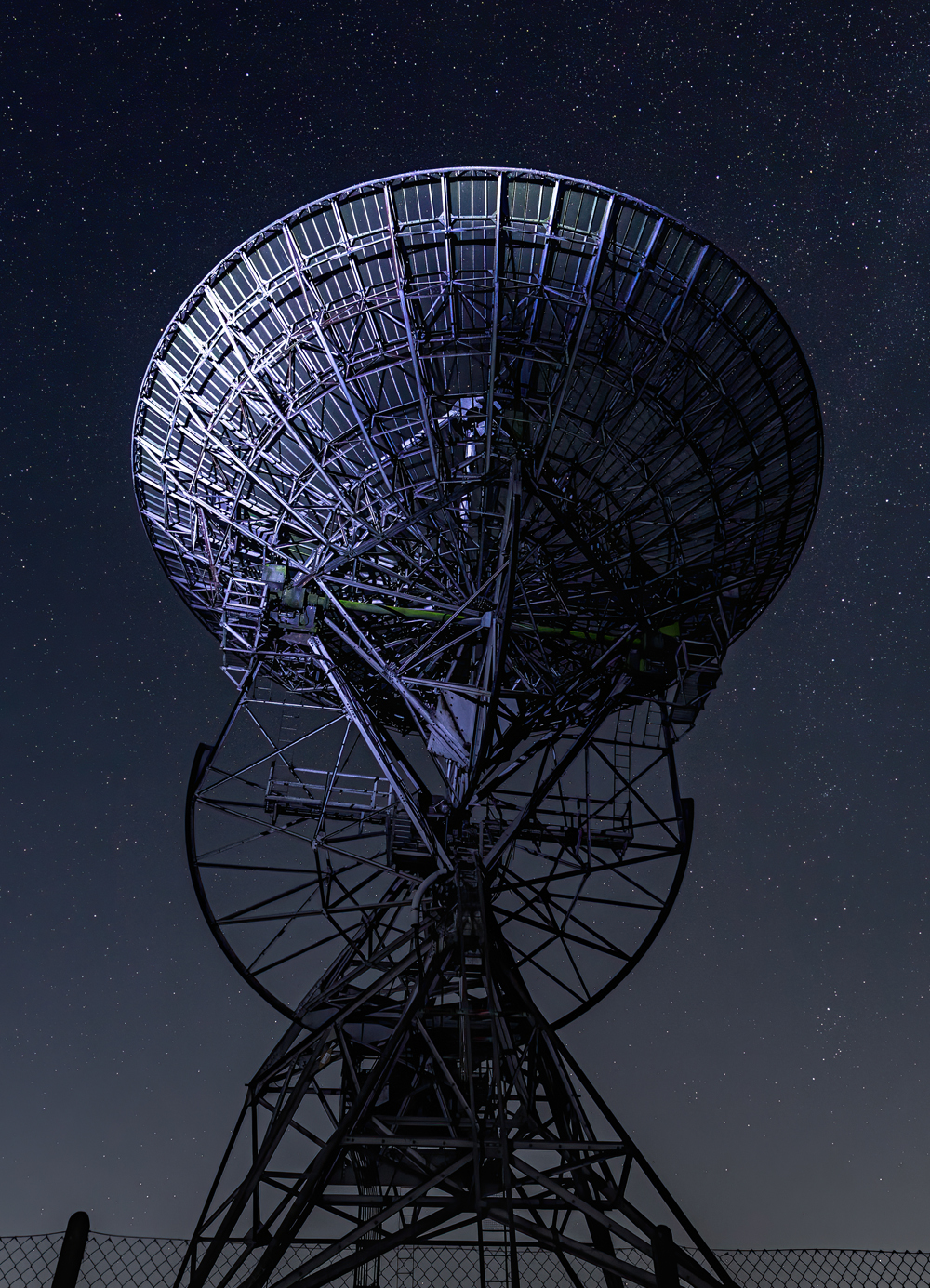 Full-range measurement in two axes.

Quick calibration capability by the user (User Quick Calibration).

The measurement accuracy is 0.030° and the resolution is 0.001°

Accuracy throughout the range with "3D Acceleration Data Processing ".

Temperature compensation in the entire operating range (0~40°).

More than ten hours of continuous work with a single charge.

5 measurement reference levels with neodymium magnet.

Ability to measure absolute and relative (Relative Zero).

The possibility of measuring relative rotation on a plane.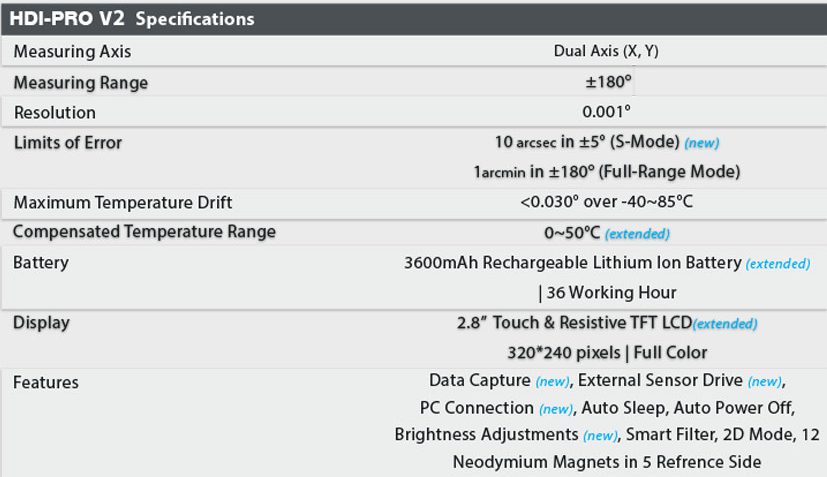 Setting axes in CNC machines and industrial robots

Deflection measurement of huge pipelines

Dimensional quality control of parts in steel industry

Accurate alignment in the installation of rail structures

Calibrating linacs and other sensitive medical equipment

Local terrain adjustment of radars

Testing and control of tables with several degrees of freedom